British Virgin Islands represented by Monéa
---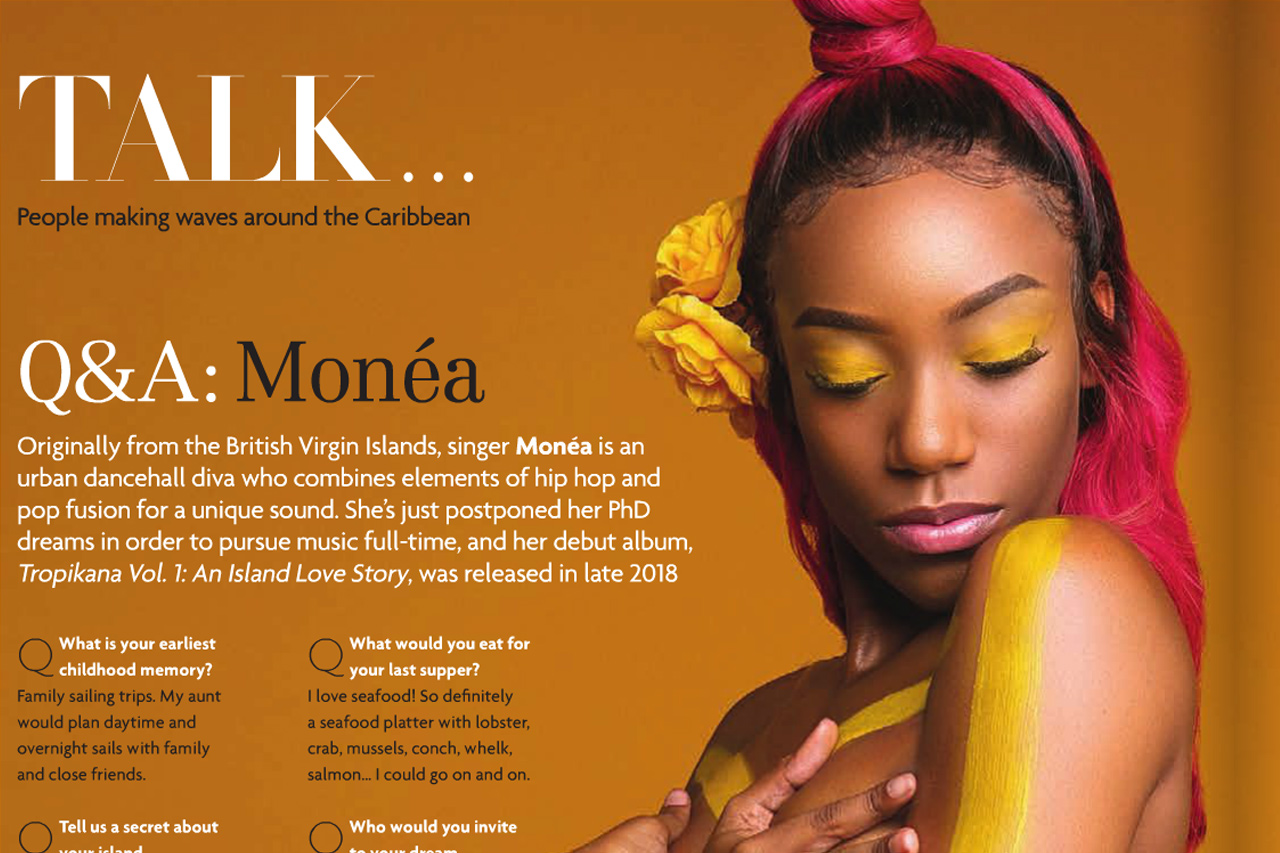 British Virgin Islands Star Monéa, starts 2019 by appearing in LIAT's ZiNG Magazine & securing a CCT Brand Ambassadorship.
When ZiNG Caribbean Magazine, Liat Airlines' bi-monthly publication, released their January/February issue in January 2019, inside sat a Q&A with Caribbean Recording Artist Monéa. With a 1 1/2 Page interview in ZiNG, Monéa shared her love for the British Virgin Islands and her most intimate aspirations for the future. The piece, found under the heading, "LIME: People Making Waves in the Caribbean" provided Monéa's brand with an incomparable amount of exposure. Following that theme, Monéa also announced a deal struck in February 2019 with CCT-BVI (Caribbean Cellular Telephone Ltd) to become an official brand ambassador for the company. As part of the deal, she will be a major component of the leading wireless provider's marketing for 2019.
On her 1st LP "Tropikana Vol. 1: An Island Love Story", released in October 2018, the 25-year-old artist emerges as a bold new voice in a very big pond, one filled with big fish from much bigger waters. Since then, she has performed alongside Shenseea and Dexta Daps, two of the young heavy weights in the Jamaican Dancehall music scene. Monéa has spent the last three months touring in the Caribbean, with heavy bookings in United States Virgin Islands during the Crucian Christmas Festival, the territory's parallel to Carnival. In January, she headlined an acoustic "Unplugged" performance with USVI Soca Star, Adam O. "Adam O Unplugged" was an upscale event that gave a portion of all proceeds to the Caribbean Center for Boys & Girls of the VI.
A strong advocate for education, Monéa recently returned to her home country of Tortola, British Virgin Islands and provided a series of motivational speeches to high school students in the territory, as her way of giving back to the community of which she loves and owes her success. The Artist holds a BA in Biology, and completed the album while working as a Research Assistant; she put her PhD dreams on hold in order to pursue her music full-time. With the success of January and February behind her, she is working on the official release of her next single off of the LP and the visuals as well, all of which will be delivered to the public in time for the USVI Carnival Season.
---